Last Update:
25 Settembre, 2015
Car Touch Up spray paint: Custom Paint in metallic and pearl colours G31 JADE GREEN MET. DAHIATSU TERIOS
CUSTOM CAR PAINT DAHIATSU TERIOS G31 JADE GREEN MET.
Custom Paint "NEXTCOLOR" in
Metallic and Pearl Colours
is a very particular production:
we create it according to customers' requests to offer him the original colour of his car. Thanks to this customisation, our car paint is ideal for touch up of car and motorbike's bodywork
. The paint composition is defined at the time of purchase and then it is indicated on the front of the spray with the main datas of the paint. You can find easily your car colour code thanks to our guide. (See on the right)
DOUBLE COAT
: the metallic or pearl colours have matt finish, so
this kind of paint needs at least one GLOSS LACQUER coat
. If you want more information about our Protective Lacquer,
look at our Short Guide
.
One spraycan covers a surface about 1-2 mq wide. Spray realized with propellant, without CFC.
Small colour differences are possible. Use with care.
INSTRUCTIONS FOR USE:
Remember to
clean carefully the surface before painting
. Shake well for some minutes. Spray paint's temperature must be at 20°/25°C. Spray the product on the surface to be painted in an uniform way at about 20-25 cm distance. To prevent leaking, we recommend to spray the enamel in thin layers, repeating the action with time intervals, if necessary.
For a sure excellent coverage, the use of the handle MAGNUM is recommended
: it lets spread the paint with more precision. Available in Metallic and Pearl Colours.
REMOVE THE PAINT WITH ACETONE AND/OR NITRO THINNER.
Spray can 400 ml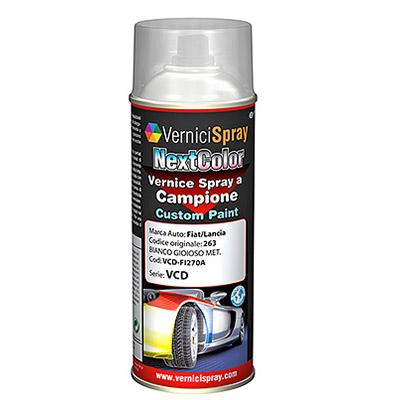 G31 JADE GREEN MET.
Available in different formats
Select the Colour you need
Car Make:

DAHIATSU

Car Model:

TERIOS

Please enter a valid email address.
Original Colour Code
Year
Product code
=COMBINAZIONE DAH.G18 / DAH.S07
NC3
2001 - 2005
VCD-DAH-NC3
BLACK MET.
NK3
2002 - 2002
VCD-DAH-NK3
BLACK MET.
6A5
1997 - 2005
VCD-DAH-6A5
BLACK MET.
X07
2006 - 2011
VCD-DAH-X07
BLACK MICA PRL.MET.
N05
2003 - 2007
VCD-DAH-N05
BLUE MET.
B58
2006 - 2011
VCD-DAH-B58
BLUE MICA MET.
NK8
2002 - 2002
VCD-DAH-NK8
BLUE MICA MET.
B40
2001 - 2004
VCD-DAH-B40
BLUE MICA MET.
B50
2001 - 2005
VCD-DAH-B50
CHAMPAGNE MET.
T23
2011 - 2011
VCD-DAH-T23
DARK GREY MET.
S09
2008 - 2008
VCD-DAH-S09
DK. BLUE MICA MET.
B42
2007 - 2009
VCD-DAH-B42
GRAYISH SEPIA PRL.MET.
S21
2001 - 2004
VCD-DAH-S21
GREEN MICA MET.
G37
2008 - 2011
VCD-DAH-G37
GREY (U.HOOD)
5101
1999 - 1999
VC-DAH-5101
GREY MET.
S33
2006 - 2011
VCD-DAH-S33
JADE GREEN MET.
NK5
2002 - 2002
VCD-DAH-NK5
JADE GREEN MET.
G31
1999 - 2005
VCD-DAH-G31
LIGHT BEIGE MET.
T11
2001 - 2002
VCD-DAH-T11
LIGHT ROSE MET.
NK9
2002 - 2002
VCD-DAH-NK9
LIGHT ROSE MET.
T16
2001 - 2005
VCD-DAH-T16
LIME GREEN MET.
G40
2007 - 2009
VCD-DAH-G40
LIME GREEN MET.
G41
2006 - 2006
VCD-DAH-G41
MARRON MET.
R56
2011 - 2011
VCD-DAH-R56
PURPLISH BLUE MICA
B38
1997 - 2005
VCD-DAH-B38
RED
R29
2001 - 2005
VC-DAH-R29
RED
R40
2006 - 2011
VC-DAH-R40
RED MET.
NK6
2002 - 2002
VCD-DAH-NK6
RED MET.
R27
1999 - 2004
VCD-DAH-R27
RED PRL. MET.
R24
1997 - 2004
VCD-DAH-R24
SEA SAPPHIRE BLUE MET.
B44
1999 - 2005
VCD-DAH-B44
SILVER MET.
NK2
2002 - 2002
VCD-DAH-NK2
SILVER MET.
S07
1997 - 2005
VCD-DAH-S07
SILVER MET.
S28
2007 - 2011
VCD-DAH-S28
TURQUOISE BLUE MET.
B36
1997 - 2005
VCD-DAH-B36
VIOLET MET.
P05
1997 - 2004
VCD-DAH-P05
WHITE
NK4
2002 - 2002
VC-DAH-NK4
WHITE
W09
1997 - 2011
VC-DAH-W09
WHITE
W19
1999 - 2004
VC-DAH-W19
WHITE
W23
2006 - 2011
VC-DAH-W23
YELLOW
Y09
2006 - 2007
VC-DAH-Y09
What writes who has bought this product
15/09/2015

OK , votre prestation est ce que je recherché , car en France ................. Renault nul de nul Merci ma portière de laguna a repris un air de neuf .!

10/09/2015

Thank's fast shiping and colour match

10/09/2015

Grazie per la velocità della consegna e per la qualità dell'assistenza e del prodotto. Le spese di spedizione erano un pò care. Cordiali saluti

08/09/2015

SULLA QUALITA' DEL PRODOTTO NULLA DA ECCEPIRE. (FORSE IL COSTO NON E' TRA I PIU' COMPETITIVI) SPEDIZIONE LAMPO

04/09/2015

Ottimo prodotto e spedizione puntuale

02/09/2015

Envoi rapide, objet parfait. Merci beaucoup @Bientôt

31/08/2015

A really, really good service. i has used this company a couple of times now and they have been demonstrated the following: 1. Easy purchasing. 2. Quick delivery. 3. Good quality product. 4. Parcels well packaged. I would definitely like to see some coupons or reduction in prices for repeat customers like myself.

16/08/2015

Ottimo prodotto uquale all'originale

10/08/2015

Efficientissimi! Grazie

08/08/2015

Bonsoir, je vous remercie de votre envoi. J'ai bien reçu votre produit, mais je n'ai pas encore eu l'occasion de vérifier sa couleur réelle et son adéquation à la couleur de la carrosserie de ma voiture.
Technical Details
Last Update: Sep 9, 2015 - Views: 38430252