Car Touch Up spray paint: Custom Paint in metallic and pearl colours 4V8 AVANT GARDE BRONZE MET
Custom Paint "NEXTCOLOR" in Metallic and Pearl Colours is a very particular production: we create it according to customers' requests to offer him the original colour of his car. Thanks to this customisation, our car paint is ideal for touch up of car and motorbike's bodywork. The paint composition is defined at the time of purchase and then it is indicated on the front of the spray with the main datas of the paint. You can find easily your car colour code thanks to our guide. (See on the right)
DOUBLE COAT: the metallic or pearl colours have matt finish, so this kind of paint needs at least one GLOSS LACQUER coat. If you want more information about our Protective Lacquer, look at our Short Guide.
One spraycan covers a surface about 1-2 mq wide. Spray realized with propellant, without CFC.
Small colour differences are possible. Use with care.
INSTRUCTIONS FOR USE: Remember to clean carefully the surface before painting. Shake well for some minutes. Spray paint's temperature must be at 20°/25°C. Spray the product on the surface to be painted in an uniform way at about 20-25 cm distance. To prevent leaking, we recommend to spray the enamel in thin layers, repeating the action with time intervals, if necessary. For a sure excellent coverage, the use of the handle MAGNUM is recommended: it lets spread the paint with more precision. Available in Metallic and Pearl Colours.
REMOVE THE PAINT WITH ACETONE AND/OR NITRO THINNER.
Spray can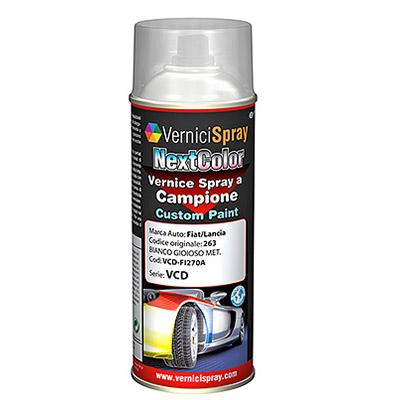 4V8 AVANT GARDE BRONZE MET
Available in different formats
Select the Colour you need
Car Make:

TOYOTA

Car Model:

AURIS

Description
Original Colour Code
Year
Product code
AVANT GARDE BRONZE MET
4V8
2012 - 2012
VCD-TOY-4V8
BARCELONA RED MET.
3R3
2007 - 2012
VCD-TOY-3R3
BLACK MICA
209
2007 - 2012
VCD-TOY-209
DARK BLUE MET.
8S6
2007 - 2012
VCD-TOY-8S6
DARK RED
9AK
2011 - 2012
VC-TOY-9AK
DARK STEEL BLUE MET.
1H2
2012 - 2012
VCD-TOY-1H2
DEEP AMETHYST/VIOLA MET.
9AH
2012 - 2012
VCD-TOY-9AH
GREY MET.
1G3
2008 - 2012
VCD-TOY-1G3
GREYISH DARK GREEN MET.
6U9
2008 - 2008
VCD-TOY-6U9
LIGHT BLUE MET.
8S1
2007 - 2012
VCD-TOY-8S1
SILVER MET.
1C0
2007 - 2008
VCD-TOY-1C0
SILVER MET.
1F7
2011 - 2012
VCD-TOY-1F7
SILVER MET. / TARO ( = TOY-147 )
8T7
2011 - 2012
VCD-TOY-8T7
SUPER WHITE
040
2008 - 2012
VC-TOY-040
WHITE CRYSTAL SHINE MET.
070
2007 - 2012
VCD-TOY-070
Technical Details
Last Update: Dec 20, 2014 - Views: 27016787
About us...
professionale , consigli ottimi e prodotti di qualita' , imballati bene , costi contenuti e veloci .
Nov 20, 2014
Visitors Online: 456
SECURE PAYMENTS